Romance Packages
We've put together some Romance Packages that we hope will add some romance and just take away the stress of having to research, plan and make reservations yourself. We do custom packages as well or you may just want to add an item or two to your room reservation. Add-ons will be listed once you get to booking your reservation. We would love to help you plan and set up anything special that may not be featured in any of these packages. Don't hesitate to call or e-mail us.
You Hold The Key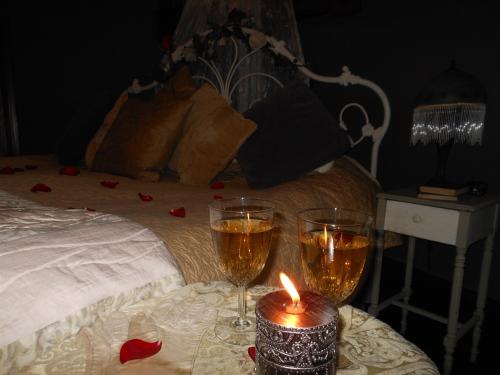 "Love,like a lamp,needs to be fed out of the oil of another's heart,or it's flame burns low." Henry Beecher
Rekindle the flame! You truly do hold the key. With this package you will give you and your love some special time together. When you enter your room we will have candles lit and soft music playing. Single rose, rose petals,and chocolate mints will be on the bed. Chilled will be your choice of sparkling wine or non-alcoholic juice. This package comes with a wonderful 50 minute private couples massage. You will be side by side the whole time. Included is a $50 gift certificate to romantic "Via Roma". They not only provide a romantic atmosphere but they are very customer oriented and the food is fabulous! You will also receive a gift-wrapped skeleton key to take home with you. We still use original skeleton keys at Wildwood so it is a great souvenir and it will remind your love that they hold the key to your heart!
Package Price $245 in addition to room rates
Ultimate Romantic Interlude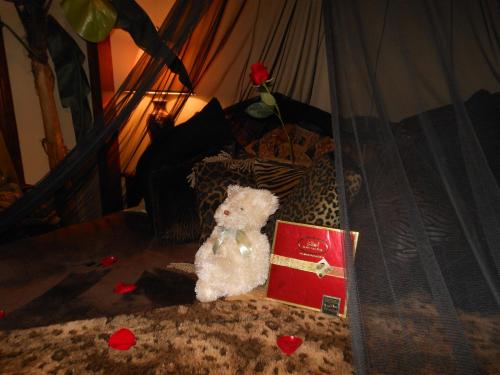 "How do I love thee?Let me count the ways.I love thee to the depth and breadth and height my soul can reach..." Elizabeth Barrett-Browning
This would be the ultimate romance package! The beautiful arrangement of a dozen roses will probably be the first thing to catch your eye. These will be set up for you to enjoy during your stay and take with you when you leave. A single rose on the pillow,petals and chocolate mints will be on the bed. Candles lit,sparkling wine or non-alcoholic juice set up chilled and ready to enjoy. Time to get to some serious relaxing with your favorite person! A private couples thermal bath will be set up for you at the Quapaw Bathhouse and then on to a 75 minute private couples massage including a mini-facial and foot scrub. Pampering doesn't get any better than this! After you are totally relaxed prepare yourself for an amazing dinner at" Via Roma" or restaurant of your choice. This package includes a $50 gift certificate towards that dinner.
Package price $425 plus room rates
Roses and Romance
"All my soul follows you.Love encircles you and I live in being yours" Robert Browning
Romance your love! We will do all we can to set the mood. Candles, rose, petals, chocolate mints, soft music when you enter your room. Beautiful arrangement of 1/2 dozen roses or fresh flowers. Your choice. Enjoy in your room and take them with you when you leave. Sparkling wine or non-alcoholic juice will be on ice, set up, and ready to toast. In addition a box of chocolates and a victorian stuffed bear will be yours to take with you. Great reminder of your special time together!
Package price $100 plus room rates.